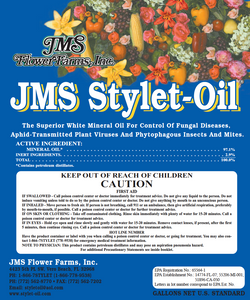 JMS Stylet-Oil - Safe and Effective Fungicide, Insecticide & Miticide
JMS Stylet-Oil is a highly refined, superior technical grade White Mineral Oil that has provided growers with a solution for crop diseases and insect control for more than four decades. Stylet-Oil has proven pesticide efficacy to improve various crop yields with minimal risk of phytotoxicity (plant injury) and offers growers a diverse range of benefits for both At-Home Gardening and Commercial Application including:
Powdery Mildew eradication, protection and anti-sporulation.
Insecticide for harmful Mites, Scale, Aphids, Leafhoppers, Psylla, Whiteflies, Mealybugs and other insects.
Prevention of insect feeding and laying eggs on the host plant without harming beneficial insects such as ladybugs and minute pirate bug.
Fungicide application including Rust, Botrytis Bunch Rot, Noble Rot, and Black Spot.
Prevention of vectors from transmitting virus to the host plant.
Environmentally safe, "Food Grade Quality" mineral oil which is colorless, tasteless and odorless with no effect on flavor, taste or quality.
Growers and Gardeners throughout the world safely apply Stylet-Oil and successfully control a number of divergent pests including certain fungal diseases, insects, plant feeding mites and aphid-borne plant viruses. Stylet-Oil is sprayed extensively on grapes, tree fruits, citrus, vegetables, berries, vines and ornamentals including:
Apples, Cherries, Peaches, Pears, Nuts
Potato, Tomato, Cucurbits, Melons, Okra, Pepper, Pumpkin, Squash
Grapes, Blueberries, Bushberries, Cranberries, Strawberries, Hops
Chrysanthemum, Diffenbachia, Philodendron, Poinsettia, Roses, Dahlias
Also Available in 15 Gallon, 30 Gallon and 275 Gallon Tote Sizes - Please Contact Us For Pricing.  
What makes Stylet-Oil the superior pest-control product?
The base oil used to formulate JMS Stylet-Oil, Organic JMS Stylet-Oil and JMS Stylet-Oil for Grass Seed Use is defined in the industry as a Technical Grade White Mineral Oil (or white oil). The decision to provide growers with a technical grade white oil for disease and insect control was made more than two decades ago by JMS Flower Farms, Inc. Providing growers with a highly refined, superior technical grade white oil has a number of advantages over non-white horticultural oils. The purity (or Unsulfonated Residue) of the base oil used in Stylet-Oil is 99.1%; the purity of non-white horticultural oils is typically 92%. This difference in purity can have significant consequences: There is more active ingredient (ai) in white oils than in typical non-white horticultural oils;
White oils do not contain aromatic hydrocarbons, thus, these compounds are not freely evaporating into the atmosphere from spray applications. Typical 92% UR horticultural base oils can contain as much as 8% aromatic hydrocarbons — all of which evaporate into the atmosphere as air pollutants;
Included in these aromatic compounds are suspected Carcinogenic compounds such as benzene, toluene and xylene. After refining, these compounds are not effectively removed from 92% UR oils, but they are removed using the advanced refining processes to manufacture white oil;
Potential for phytotoxicity (plant injury) is minimized when using white oils due to the removal of impurities, including aromatic compounds.
Shipping Notes:
The final shipping price will be quoted based on your "Bill To / Ship To" address in the checkout page. For customers in California and Florida UPS and FedEx Ground typically delivers the next business day. For Oregon, Washington, and Arizona typical ground delivery takes 2 business days. For most other U.S. customers typical ground delivery takes 3 - 4 business days. For customers in Canada, UPS will charge and collect any applicable Import Fees.